Best white paint colors for exteriors
White painted exteriors are quickly becoming the next hottest thing, thanks to the farmhouse trend taking the country by storm. Contrary to popular belief, not all white paint is created equal; strangely enough, there are actually ton of shades of white.
Thinking of painting your exterior white? Here are the best white paint colors for exteriors and how to choose the right one for your home.
8 of the best white paint colors for exteriors
Oyster White by Sherwin Williams
Despite the name, Oyster White is actually a light greige paint color. Depending on what's next to it, Oyster White has both grey and beige undertones. In a home that gets ample natural light, painting Oyster White on your exterior will show more of the softer, beige side of Oyster White.
As you can see below, Oyster White pairs beautifully with grey and black tones and is a truly beautiful white paint color for your home's exterior. Out of all the paint colors I've considered, as far as white exteriors go, Oyster White definitely has the most depth to it.
Oyster White has a LRV of 74.23 (Light Reflective Value is a 0-100 scale, with colors 0-50 absorbing more light than they reflect and colors 51-100 reflecting more light)
Simply White by Benjamin Moore
Pure and simple, you can't go wrong with choosing Simply White as your home's exterior paint color. A softer white with a hint of yellow undertone, Simply White is a popular paint color for both interiors and exteriors.
Because Simply White only has a slight yellow undertone, it's quite a bright white comparatively speaking to a lot of the off whites that are popular on farmhouse exteriors today. If you're searching for that bright white for your home's exterior, try Simply White.
Simply White has a LRV of 91.7
Snowbound by Sherwin Williams
Snowbound is another popular white paint color for exteriors. While technically classified as an off-white, Snowbound has a cool undertone to it. As you can see below, because of the cooler undertones, Snowbound works beautifully to bring out the black accents on this home. If you like the idea of creamier whites, here's a post I wrote on warm white paint colors.
Snowbound has a LRV of 82.56
Alabaster by Sherwin Williams
With slight beige undertones, Alabaster is a quintessential white paint color for exteriors. Not too bright white, but not too yellow, Alabaster sits right in between, making it an easy choice for many modern farmhouse exteriors.
Alabaster White has a LRV of 82
White Duck by Sherwin Williams
Despite the name, White Duck actually an off white color. White Duck is very creamy and has a bit of a greige undertone peaking out. If you're looking for a white paint color, but really want something with a lot of warmth and creaminess to it, White Duck is an excellent option.
Make sure to think about the trim color you pair with White Duck, as a trim color that's more creamy will help bring out the creamy undertones of White Duck, versus a color that's on the cooler side, as that will bring out the greige undertone.
White Duck has an LRV of 74
Moderne White by Sherwin Williams
Moderne White is very similar to White Duck in that they both have a LRV of 74 and have greige undertones. It's significantly less creamy than White Duck, but is definitely still not a blinding white. If you'd like to go with gray colored trim, Moderne White will pair beautifully!
The LRV of Moderne White is 74
Chantilly Lace
Paired next to other white paint colors on this list, Chantilly Lace looks like a much brighter, truer white. Lacking the creaminess you'll find in White Dove, Oyster White and other creamy whites on this list, go with Chantilly Lace if you're looking for a crisp, clean white.
The LRV of Chantilly Lace is 92.2
White Dove by Benjamin Moore
One of our personal favorites, White Dove is a perfect white hue with just the right amount of softness to it. With a slight yellow undertone, White Dove has a creamy look and feel to it, without being too off-white. We've used White Dove paint on our shiplap, home's exterior and trim throughout our home.
The LRV of White Dove is 85.38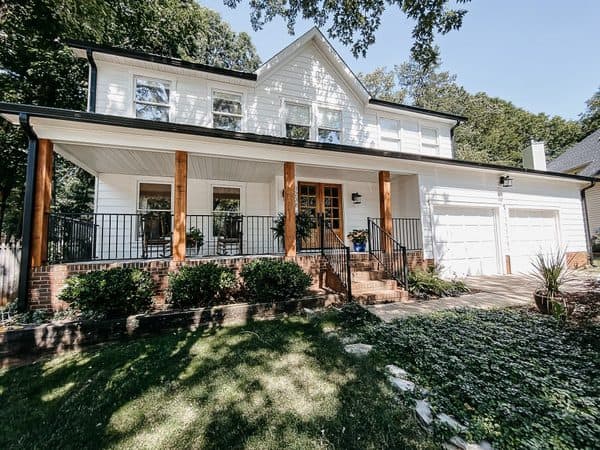 If you're stressed about keeping your white house clean, don't be. Here's a post we wrote on keeping your white house white!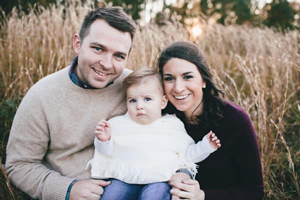 ABOUT DANIEL AND ASHLEY
As a licensed general contractor with more than 10 years in the business, Daniel can walk you through any home renovation or improvement project step-by-step. And if you're here for home design and paint color advice, Ashley's your girl! Join us as we share helpful tips and step-by-step tutorials on anything and everything home. We're also renovating our personal home along the way, and will use this blog as a way to document our progress. Read more...