One room challenge (the nursery): week 1
For years, even before this blog was around, I've watched with wonder as some of my favorite home bloggers participated in the One Room Challenge. And now with my own blog live and some room before and afters under my belt, I'm finally entering the challenge!
If you've never heard of the One Room Challenge (ORC) before, it's a design challenge where bloggers and interior designers makeover/decorate one room in a 6-8 week period.
This post contains affiliate links. Read my policy here.
One Room Challenge (week 1): The nursery
For this ORC, I'll be tackling my daughter's nursery. Here's what the room looked like when we moved in (minus the trim work…we're getting better at taking true "before" photos!) It was basically just four purple walls and a seriously outdated ceiling fan.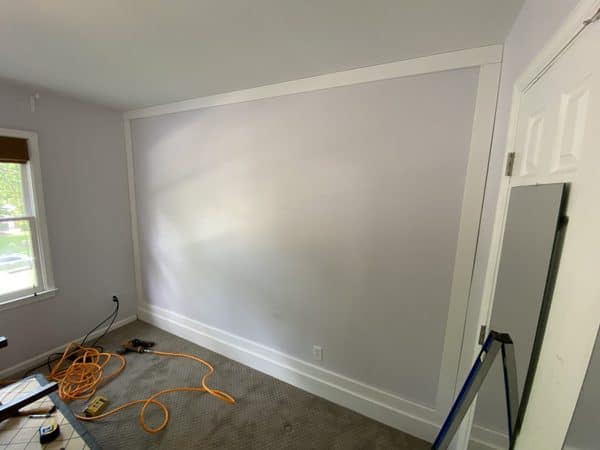 We used this as a guest room for a couple years and then started the process to transition it into a nursery when we found out we were having another little girl.
Last fall, we put up a board and batten accent wall and painted it Sherwin Williams Silver Strand. We then added in new baseboards, new closet doors with black modern farmhouse door handles and painted the other three walls in our favorite white, Dove White by Benjamin Moore.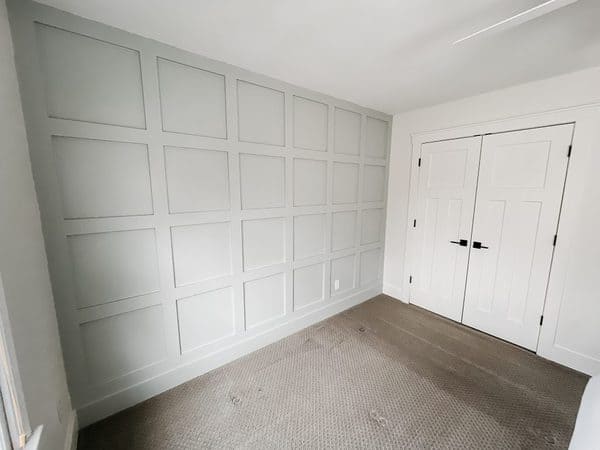 And then, there it sat, and it still sits until now! I'm finally getting my act together to decorate this room.
My goal for this room would be to decorate the space in a way that my daughter can easily transition into as she grows out of babyhood and into a preschooler. I'm going to shy away from artwork or design that's strictly for a nursery, and not because I don't like that, but because we still have a ton of work to do on our home and I want this room to be done for a while!
ORC nursery mood board
For this week, I'll reveal my mood board. Of course, there's still plenty of time to change my mind, but this is the general direction I'm going in. After thinking about this room's design for literally months, I finally found a rug that I loved and planned the whole room around it!
Many items will be reused from my daughter's nursery like the crib, rocker and possibly a lamp. I've just put the dresser you see in the mood board as inspo, as rather than buying one I'm going to be refinishing an antique dresser and finishing it in one of my favorite black paint colors, iron ore!
In addition to pulling the room together and refinishing the dresser, we also have to replace windows in the room too. Our entire house still has the original windows and many of them are fogged pretty badly, so I'm pretty excited about finally replacing them.
We've chosen to go with black aluminum clad to match our modern farmhouse exterior aesthetic and we're also painting the window trim black on the inside, too. We'll finish the look with farmhouse window trim and possibly curtains…I can't decide yet!
Ready to watch all the projects as they unfold? Visit this link to see what other ORC participants are getting in to.
Sources used: