Kitchen renovation trends for 2021
A kitchen renovation is finally in our future, and to prep for what's to come, I always like to see what's 'in.' Not that I like to only use trendy elements in my design, but I am always curious to see what's popular at the moment.
In my book, a "trendy" kitchen will always be a balance between using timeless elements while incorporating fun, more trendy items that can be easily (and inexpensively) replaced as the styles change.
Curious about the top kitchen renovation trends for 2021? Here's what you can expect to see:
Top kitchen renovation trends for 2021
Quartz countertops
Of course marble is a timeless material and will always be in style, but more and more homeowners are adding a more functional stone like quartz to their kitchen reno plans.
While beautiful, marble is notorious for quite a bit of upkeep, and routinely stains if not properly cleaned and sealed.
Quartz on the other hand, is very durable and much more practical–especially if you have kids.
Don't even bother looking at slabs of granite; especially if you're planning on selling soon. Today's buyers are looking for kitchens with marble or quartz countertops.
Incorporating wooden elements
Many of you are trying to run as fast as you can from the wooden cabinetry, in favor of all white everything.
But before you decide to banish wood from your kitchen renovation plans, take a look at how beautiful carefully sourced wooden elements look in a white kitchen.
Serving to warm up an otherwise white pallet, wooden islands, shelving or even range hoods are going to be big in 2021.
If you're looking to add wooden tones or wooden cabinetry to your kitchen but are worried about it looking too dark, consider using walnut. Walnut is a popular wood species that is warm and neutral and doesn't have the outdated yellow-orange tones that graced so many kitchens in the 80s and 90s.
Dark cabinetry
If you're not a fan of the all-white kitchen, 2021 is going to be your year. Dark cabinets have been creeping up here and there for years, but now it's totally in.
Think hunter green, deep gray, rich charcoal and even black! Balanced with lighter-toned wood floors and ample natural light, dark cabinetry is beautiful.
Related reading: The best black paint colors for your home
Statement lighting
Gone are the days of two small pendants over an island– homeowners choosing to renovate their kitchens in the coming years will opt to add large statement lights to elevate the look of their kitchen.
Brass pendants are making a comeback, but I'm also noticing wooden chandeliers, and lighting using more natural elements more and more.
Open shelving
Love it or hate it, open shelving is not only here to stay, but it's going to be big moving into 2021.
While some initially thought that open shelving was merely just a phase, I'm seeing more and more homeowners and designers opt for the look. Open shelving breaks up cabinetry that can sometimes make your kitchen feel too heavy.
We have a smaller kitchen and since we're not changing the footprint, I'm opting to remove some upper cabinetry in favor of open shelving to make the kitchen look more light and open. Here, you can check out some of my favorite open shelving ideas for the kitchen.
Creative storage solutions
The number one thing on everyone's kitchen wish list these days is creative storage solutions. By using creative storage solutions when planning your kitchen renovation you can maximize space– making even the smallest kitchen seem large.
From spice drawer inserts to cookware organizers and even corner optimizers, there's a storage solution for virtually every drawer and cabinet in your kitchen.
Shaker-style doors
Clean, simple lines continue to make shaker-style doors the most popular and timeless cabinet door year after year.
Characterized by a square-panel door with a recessed center panel, you can't go wrong with choosing a shaker door.
While other cabinet styles will be out of date in a few years, shaker doors will always be in. Considering cabinets are typically the biggest ticket item in a kitchen remodel, it's smart to go with a classic design.
Statement making range hoods
Ornamental range hoods have been gracing kitchens for a few years now, but in 2021 they will be an absolute must for any kitchen makeover.
Homeowners are seeing the range hood as a way to either add warmth by using warm wood tones or as a way to make a statement through the use of bold colors.
Some homeowners are taking this trend to the extreme–making range hoods extra large with a unique design.
No matter which design direction you choose, make sure you take time to think about how the range hood can enhance your overall aesthetic.
Keep reading:
Our modern farmhouse master bathroom renovation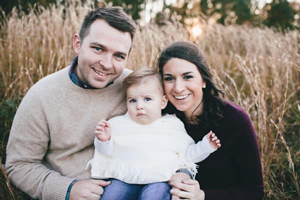 ABOUT DANIEL AND ASHLEY
As a licensed general contractor with more than 10 years in the business, Daniel can walk you through any home renovation or improvement project step-by-step. And if you're here for home design and paint color advice, Ashley's your girl! Join us as we share helpful tips and step-by-step tutorials on anything and everything home. We're also renovating our personal home along the way, and will use this blog as a way to document our progress. Read more...