All about quartzite countertops
Truth be told, before we started planning our kitchen renovation, I had never heard of quartzite countertops. All you hear about these days in terms of the most popular countertop options is quartz.
I love the aesthetics of quartz, but sometimes I wish it looked a bit more like a natural stone, and admittedly, there are newer quartz options that look surprisingly like marble, but for those that want a natural stone, quartzite might be something to consider.
Below I've answered some common questions about quartzite and I've also highlighted four of my favorite quartzite countertop options!
Is quartzite good for countertops?
Quartzite countertops are a popular option for countertops not only because of their beautiful appearance but also because they are very durable. These hard-working countertops can withstand heat and aren't really prone to chipping. However, because they are a natural stone, they can absorb spills and stain considerably easier than quartz.
Popular quartzite countertop options
Above, a kitchen using taj mahal quartzite
Taj Mahal quartzite
The most popular quartzite on the market today seems to be the Taj Mahal quartzite. This off-white/cream base is accentuated with golden brown streaks. While Taj Mahal is simply beautiful, it's not for every home, as this is a very warm stone and needs to be paired with warm finishes and decor.
If You have true white cabinets like Chantilly Lace, you're going to want to find a cooler quartzite. Taj Mahal quartzite is best paired with warmer paint colors. Depending on your unique slab, this stone might work with grays with green undertones like Swiss Coffee or taupes like Pale Oak.
Because quartzite is a natural stone and no two slabs are the same, you must go view the slab in person.
Bring paint samples so you can accurately choose a cabinet color. Sometimes slab yards will let you take home a small sample piece of your stone which would be your best bet to find the correct paint colors.
Allure Quartzite
This warmer-toned quartzite is close in appearance to Taj Mahal but it's not quite as warm. I'd classify this beautiful quartzite stone as a greige ( a mix of gray and beige). Just like with Taj Mahal, this quartzite is a bit too warm to pair with ultra white cabinets, and should be paired with warmer greige colors.
Florida Wave Quartzite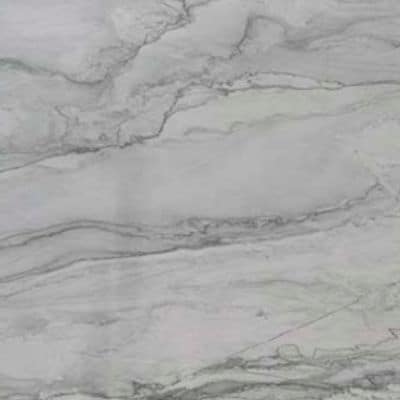 Florida Wave and Fantasy Macaubas (below) both really remind me of marble. This is a very cool-colored stone and would work beautifully in all white kitchens. I'd pair this stone with a true white cabinet like Chantilly Lace. Just like with all stones, you really want to see this in person. In this sample it looks like the veining is more blue/gray, but I've seen some stones up close and the veining looks more like a charcoal/black.
Fantasy Macaubas
Fantasy Macaubas is another really beautiful cooler stone. A bit more blue/gray overall than Florida Wave, but still really pretty. This type of stone will work well with an all-white kitchen too.
Is quartzite cheaper than granite?
No, quartzite is more expensive than granite.
Pros and cons of quartzite countertops
Have your eye on a beautiful quartzite stone? Learn about the pros and cons, first!
Let's start with the good news:
Beautiful natural stone that truly is a show-stopper in appearance
More durable than marble and requires less maintenance overall, does not etch like marble countertops
Can get the marble-like look with quartzite
Very durable. Harder than granite
Withstands heat well
More affordable than marble
More durable than granite
And now, the bad news:
Does need to be resealed at least yearly if not every six months
More expensive than granite, some popular quartzite colors are even more expensive than quartz
Items like red wine and tomato sauce can stain counters if not wiped up immediately, even if the counters have been sealed, as the sealant breaks down over time and the porous stone can absorb material left on the countertops
Quartzite vs Quartz
Quartz is a man-made stone, while quartzite is a natural stone
Quartz doesn't withstand heat too well, where as quartzite does. If you are someone that is used to granite and likes putting hot items directly onto your counters, quartzite is much better for that than quartz.
Quartz is not porous and is not going to soak up spills and messes.
Quartz does not need to be sealed, quartzite should be sealed every 6 months to a year.
How to clean quartzite countertops
Because of the porous nature of quartzite, you want to quickly wipe up stains and spills. Beyond that, here are general maintenance tips
Make a plan to seal countertops in a busy kitchen every six months. Sometimes you can get away with sealing once a year.
Don't clean with anything that has a high ph level. This will break down the sealant over time. It's best to just use a mild cleaner or mild soap and water. I've also heard people really say that microfiber cloths work the best to clean quartzite. You don't want to use anything abrasive that's going to potentially scratch the surface of your natural stone.
Not quite sure quartzite is for you? Check out my favorite white quartz options