Benjamin Moore Coventry Gray
Looking for a darker-toned cool gray paint color? Benjamin Moore Coventry Gray might be for you.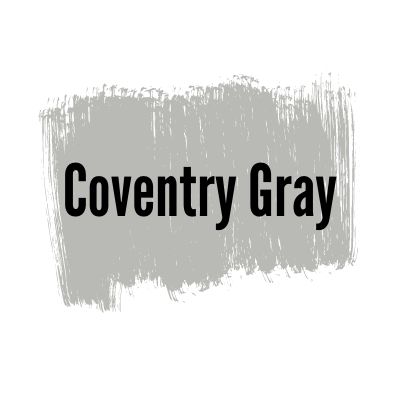 Is Coventry Gray warm or cool?
Coventry Gray is considered a cool paint color, thanks to its steely blue undertones.
What are the undertones in Coventry Gray?
There's no denying–Coventry Gray has blue undertones. It's a gray blue or blue gray paint color depending on how much light you have in your home.
The number one reason people don't end up liking their paint color is because they haven't paid attention to the undertones and when the mistakenly pick the wrong undertones their walls end up reflecting those undertones and it doesn't work well with their decor and fixed elements like floors.
You can easily prevent this mistake and we'll talk about how to do that below!
How to decide if Coventry Gray is right for your house
Coventry gray is a medium dark gray with blue undertones and must be paired with the right fixed elements and used in ample light to look good in your home. Let's jump in to those two factors together:
Understand the undertones in your fixed elements
Gray is one of the hardest colors to get right because the undertones can sometimes be pretty forgiving.
You can end up having gray come across as more purple, blue or green and while this works great if you've got furnishings and fixed elements to reflect these colors, a lot of times people end up hating the gray color they picked.
But don't worry, this isn't going to be you because you're going to follow this advice!
Because Coventry Gray has blue undertones, you must pair it with undertones that match. For example, if you're looking for a gray to go with your couch, it needs to have blue undertones. Same goes for your floors/cabinets/countertops. Don't pair a gray-blue with brown/gold undertones found in a lot of granite.
The best advice I could give you is to go around your home and note the undertones in your fixed elements (anything that can't be easily changed out) and make sure they harmonize with blue-gray.
Look how great Coventry Gray works in this space! Tons of natural light… check. Furnishings that go with the color (gray chairs plus a blue green couch). The classic wood floors go with everything.
Evaluate your light
If you want to go with Coventry Gray, you need to make sure you've got significant light.
If the room where you want to use this darker gray is North facing with two small windows, I'd really reconsider, as Coventry Gray just doesn't do well if there's not a lot of natural light.
If you really want a darker color, consider some navy blues that will hold their own in the absence of a lot of natural light.
Don't forget to test your color out
Before you make the final color decision, make sure to test out the color. I really like those big peel and stick samples to test out the color, and I'll tell you why. You need a large sample to really get a good feel for the color–it's very, very hard to see the undertones and depth of a color using those small paint chips.
Where could I use Coventry Gray in my home?
While I think Coventry Gray is a very beautiful medium-dark gray, it's not for every area of your home.
You have to be careful with Coventry Gray, as it's fairly dark and can look downright dingy if used in the wrong space. If you're searching for that dramatic gray hue and have tons, and I mean tons, of natural light, Coventry Gray could be for you.
However, say you have an office you want to dress up with some dramatic paint but your office doesn't have too much in the way of natural light–you want to steer clear from Coventry Gray in this situation.
In the absence of a lot of light Coventry Gray just looks muddy and drab. You can make a dramatic statement with a more saturated navy like Hale Navy or a deep charcoal color.
For the most part, I recommend Coventry Gray for an accent color, not a main room color. I love it on stand alone cabinets (like just the uppers/lowers/island) on built ins in otherwise bright rooms and on exteriors.
Which colors coordinate well with Coventry Gray
Horizon- One of the lightest grays without getting into a white paint color is Horizon. A beautiful pale gray with blue undertones, Horizon pairs perfectly with Coventry Gray.
Wolfe Gray-Wolfe Gray is one of my favorite colors to use. It's so dramatic, but subdued–it's a far cry from Hale Navy or Naval, but it's still in the blue/gray paint color family.
Palladian Blue-A really soft blue green hue that's got significantly more depth than Horizon works really well to round out this palette.
Browse my recommendations for other popular light gray paint colors here to coordinate with Coventry Gray.
Which trim color pairs best with Coventry Gray?
Coventry Gray really shines when it's paired with a white that is perfectly white, and free of undertones. You can go with Chantilly Lace for a really crisp pairing or if you want to warm it up just a bit without stepping your toes into the off-white territory, try Oxford White.
Which is darker? Coventry Gray or Stonington Gray?
Coventry Gray is by far the darker paint color, with a light reflectance value of 48, compared to Stonington Gray's LRV of 59. Darker colors are given a value 0-50, with 0 being the absolute blackest, and lighter colors are valued 50-100 with 100 being the whitest white.