20 easy DIY wall decor ideas
Moving into a new space can seem daunting– you likely have to furnish several rooms and need to put decor on the walls to keep it from looking too bare. But how do you decorate your walls without breaking the bank?
We've got you covered with this list of DIY wall decor ideas and things you can buy on the cheap, too. Here are our favorite ideas to spark creativity and fill your walls.
20 DIY wall decor ideas you can inexpensively pull off
The perfect wall decor idea for your kitchen
The kitchen can be a tricky place for wall decor, but we love this inexpensive wall decor idea from Re-Fabbed. Using old forks and a single piece of pallet wood, this DIY project perfectly compliments a kitchen and brings something visually interesting to the walls.
Frame your children's artwork
Ever since our daughter started pre-school she routinely comes home with artwork. Rather than just shove some of our favorite pieces of hers, we decided to frame them.
We were looking for a cheap wall decor solution for our playroom and framing our daughter's artwork fit the bill perfectly.
Floating shelves: the perfect wall decor idea for your living room
We had a rather large blank wall in our living room that desperately needed some love, and since we didn't want to bust our budget we decided to hang up two DIY floating shelves and place different sized frames of family photos on them.
Because we had such a large space to fill, we placed the shelves diagonally from each other, which ended up taking up quite a bit of room and filling the space quite nicely!
Related: Hiding a cable box for a wall mounted TV
Use old windows
Most antique shops have hundreds of old farmhouse style windows lying around. Pick one up, paint it or sand it for a more unfinished look– and voila!
Remember, filling up a blank wall doesn't always mean you have to hang something on the wall– in this project we opted to put our old window on a dresser and slant it up against the wall.
Paint an easy DIY wall mural
Daniel's definitely the artist in the family, but even a non-artist like me could pull off this amazing DIY mountain wall mural. I love the idea of a colorful mural for a nursery or even a little boy's room. Best of all, it's such a showstopper, you won't really need to dress up the rest of the walls.
String art
I'm in love with the idea of 3D art! String art is so cute and the perfect way to inexpensively fill a wall.
Try a pallet wood project
Who doesn't love a good pallet wood project? These cute signs are popping up everywhere and we can't blame homeowners for using pallet wood projects as wall decor!
Affordable shower curtain wall art
Never did we think that shower curtain and wall art would be in the same sentence, but when we stumbled upon this unique and super cheap wall decor idea we were blown away at the creativity, and final product!
Use an old shutter as wall decor
Here's another way you can turn an inexpensive find at a thrift store into perfectly cute wall decor. We love how this distressed shutter looks leaning up against the wall!
DIY wall decor for your living room
We love choosing more natural elements when it comes to sprucing up a home, so when we saw this eucalyptus DIY wall decor idea for the living room, we were all over it.
This is such an easy and cheap way to fill a large wall in your family room–plus it has to smell great, too!
Frame family photos
This one seems like an obvious option, if you're looking for a cheap way to decorate your walls, but choosing the right frames can really elevate this simple idea.
Choosing inexpensive, black frames with mats can really add a statement. We were looking for something to put in our bathroom to complete the look and as soon as we added these cheap black frames, the room instantly looked put together.
Hang up curtains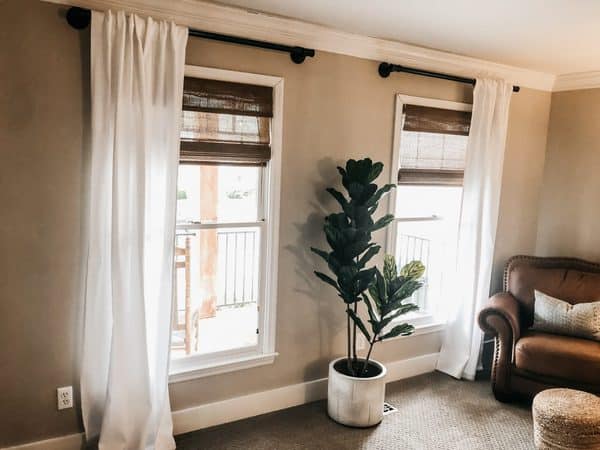 Yes, technically curtains aren't considered "wall decor," but trust me, if you have a blank space and haven't put up wall curtains, you'll be amazed at the difference it makes.
Don't waste money buying expensive curtain rods, but rather, make your own out of industrial pipe! The pipe curtain rods bring an interesting element to any room, instantly making up for the lack of wall decor.
Hang up what you already have
Daniel is a huge music lover and has collected guitars and various other instruments for years and rather than keep those in the case we opted to hang them on the walls.
This inexpensive wall decor idea cost us nothing, which we loved. What do you have laying around that is special to you? See if you can hang it up!
Frame song lyrics
When it comes to wall decor, I'd always prefer to go with something more sentimental and meaningful to us, rather than to just buy a random home decor item. We framed our wedding song lyrics and love how it looks in our bedroom.
Prop up a blanket ladder
I love the idea of using a blanket ladder in a family room or bedroom. You can follow the directions to make a DIY blanket ladder or visit an antique store for a more rustic looking ladder. Either way, a blanket ladder is a great, and super inexpensive way to dress up your walls.
Enlarge a sporting or concert event ticket
Now this is a seriously creative idea, and a perfect wall decor item for any game room or office. And best of all? This fun mod podge project takes less than an hour!
DIY painted driftwood wall art
Here's a beautiful idea to dress up your walls, inexpensively.
Frame maps
We had a lot of empty space in our dining room and I was searching for an inexpensive way to fill them when I got the idea of framing maps of the towns my husband and I grew up in. We found a shop on ETSY that was able to make large prints of our hometowns for pretty inexpensively and I love how they turned out!
Hang a wreath
I love the idea of hanging up wreaths as wall decor. This budget friendly decor hack ads both color and depth to your wall.
Hang up antiques
To really get unique pieces, you're going to have to hit up the antique store every now and then. Go a lot because new vendors and items change all the time.
I love how Suzy has mounted this old antique mail sorter on the wall in her office, and truthfully I've been scouring antique stores looking for something like it for our home!
DIY wall decor done right looks classy and is a perfectly inexpensive way to decorate your home!
Related wall decor ideas
DIY industrial pipe curtain rod